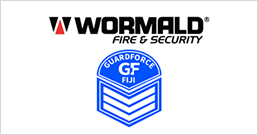 Wormald Fire & Security, along with Guardforce (Fiji) are two brands operated by Evergreen International Fiji, LLC., that provide security guarding, patrol, fire protection systems, CCTV, and alarm installation and monitoring.
Wormald Fire & Security is focused on the installation and maintenance of fixed equipment such as sprinkler systems, hydrants, and security alarms, while Guardforce specializes in manned services such as security officers, mobile patrols, rapid alarm response, and cash escorts.
The company's security systems range from small standalone units to extensive multi-site networks that are maintained by fully licensed and highly trained technicians throughout Fiji.
Clients include government embassies, high commissions, airports, hotel resorts, local governments, universities, banking, retail, oil and gas, construction, manufacturing, facilities management, logistics, and residential properties.
Product:
Specialist security and fire protection services
Operations:
Fiji
Established:
1970
USP:
Experienced personnel, superior processes and technology
Markets:
Government infrastructure and private sector
Number of employees:
1400