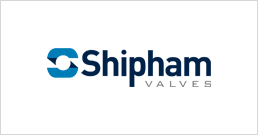 Shipham Valves has its origins as far back as 1798 in Hull, East
Yorkshire, UK, and is one of the longest established and most highly respected valve manufacturers in the world. The company employs 65 people at its 5,570m² facility in Brough East, East Yorkshire. We specialize in the design, development, and manufacture of Gate, Ball, Butterfly, Globe, Check, and Hydrant valves. For over 200 years, Shipham has continually developed our Nickel Aluminium Bronze Valve product range and will continue to do so with the addition of Triple Offset Butterfly Valve. The product range will also be able to be manufactured in Bronze, Duplex Stainless Steel, Super Duplex Stainless Steel, Hastelloy®, Monel®, Titanium, Inconel®, Zirconium & GRE.
With support from our new owner, we will expand our global reach with new agents, distribution and support networks, and will continue to support Robert Cort, John Mills, and Advanced Valve Technology brands.
The company supplies valves to diverse market sectors, including: upstream, midstream, downstream oil and gas, petrochemical, power generation, marine, naval marine, fire protection, and pipeline applications. Our commitment to innovation and our strong reputation, coupled with an experienced, dedicated workforce, ensures we provide quality products and service whilst continually striving for perfection.
We strive to be renowned as the experts, the market leader in our sector, delivering unsurpassable customer service across our product range.
We are proud to bring back this iconic brand to the East Riding of Yorkshire and look forward to furthering our relationships with the local community.
Product:
Design, development, and manufacture of specialist valves
Operations:
UK
Established:
1798
USP:
Market-leading expert, delivering an unsurpassable customer service
Markets:
Oil and gas, petrochemical, power generation, marine, naval marine & fire protection
Number of employees:
65